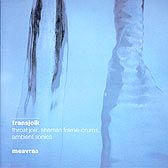 MEAVRAA
Transjoik
MEAVRAA by Transjoik; Atrium/Warner Music Sweden 8573-85273-2
Music review by Nathan Muus, from Báiki issue #22.
From Frode Fjellheim and his group Transjoik, we have their latest CD entitled MEAVRAA, meaning in South Saami "the ancient voice." The secondary title of the album is "throat joik, shaman frame drumes, ambient sonics." Upon a first listen one realizes immediately that this is no traditional Saami joik CD with traditional drums and a few "ambient sounds." This is indeed a CD with joiking overclad by many electronic sounds, and incidentally, there are some shaman frame drums in the mix also.
Frode, of South Saami background, has been involved in a number of CD projects, this one perhaps his most successful ever. MEAVRAA delivers a potent punch of tuneful melodies delivered with forceful percussion and blended in an electronic wash. There are dashes of older Saami traditional joik, Tuvan (Mongolian) throat singing, even nods to the current string-based traditional Scandinavian folk music renaissance. I could use adjectives to describe the music as "hypnotic, exciting, transient." I will not. You must determine this for yourself. All in all, the melodies stick in your mind - which is reason enough to recommend this CD as easily one of the best recent Saami releases. The group Transjoik has a sound which is truly original from previous Sammi music releases mixing traditional with modern.